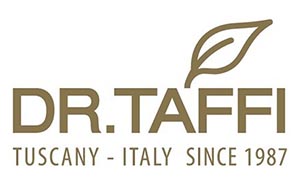 DRTAFFI
DrTaffi Bionatural Research Laboratories were founded in 1987, thanks to biologist Dr. Enio Taffi.
DrTaffi makes green cosmetics with natural ingredients for skin, hair care, perfumes, toiletries and dietary supplements.
DrTaffi and Acqua di Bolgheri branded. The products are guaranteed by AIAB for organic organic cosmetics and BIOAGRICERT for natural cosmetics and of natural origin. They are Lav and Vegan certified.